STOP! Instead of throwing away your engagement ring; sell it for cash! Learn how and where to sell an engagement ring in Chicago here!
One of the best jewelry assets you can sell is an engagement ring.
These have historical significance and have lasted through the ages. If you're in Chicago, you'll find that there's a huge market for interested buyers.
An engagement ring is a timeless piece of jewelry. It reminds the wearer of the relationship they've entered with their significant other. If you have an engagement ring to sell, you can make a great profit.
But are you wondering how and where you can sell an engagement ring in Chicago?
We've prepared this informative guide on how to do it.
The Guide on How and Where to Sell an Engagement Ring in Chicago
The first thing to do is to familiarize yourself with the 4 C's of Diamonds. These guidelines will help you understand the value of the engagement ring.
You also want to invest in a great display box for your engagement ring. The ring must be maintained well and one way to do this is to protect it in a case.
Once you've done this, here's how to make your sale:
1. Wait For The Right Moment
While you might be eager to sell your engagement ring as soon as possible, you want to wait for the right occasion.
We recommend reaching out to wedding venues in Chicago, to inquire about what times they are the busiest. This will help you determine which period is the "peak wedding season" in Chicago.
You also want to follow the trends for selling diamonds. If you have seen diamonds selling frequently over the past few months, you should start the sale. If diamond sales have been down, you might want to hold off for a while.
2. Consider An Appraiser
You want to consider hiring an appraiser to help you assess the value of your engagement ring. You want to provide them with the history of the ring. This will include how many years you have owned it and any other attributes – for example, has the ring been in your family for generations?
They will tell you how much you should expect to sell your engagement ring. Once this is determined, you will have an easier time deciding how much to sell it.
You will also be able to shortlist potential buyers who are willing to pay top dollar for the engagement ring. You want to make sure you don't sell it to someone who wishes to buy it for less than its worth.
3. What Makes Your Ring Valuable?
What factors determine the value of your engagement ring? One, is, of course, its condition – which is why we urge you to look after your ring. Invest in a great jewelry cleaner so that you can regularly polish the ring and the diamonds in it.
The center diamond (if the ring has multiple diamonds) is what really determines the value. For example, a round diamond has more value than diamonds of other shapes. Diamonds that are white and clear are more valuable and in demand than colored diamonds.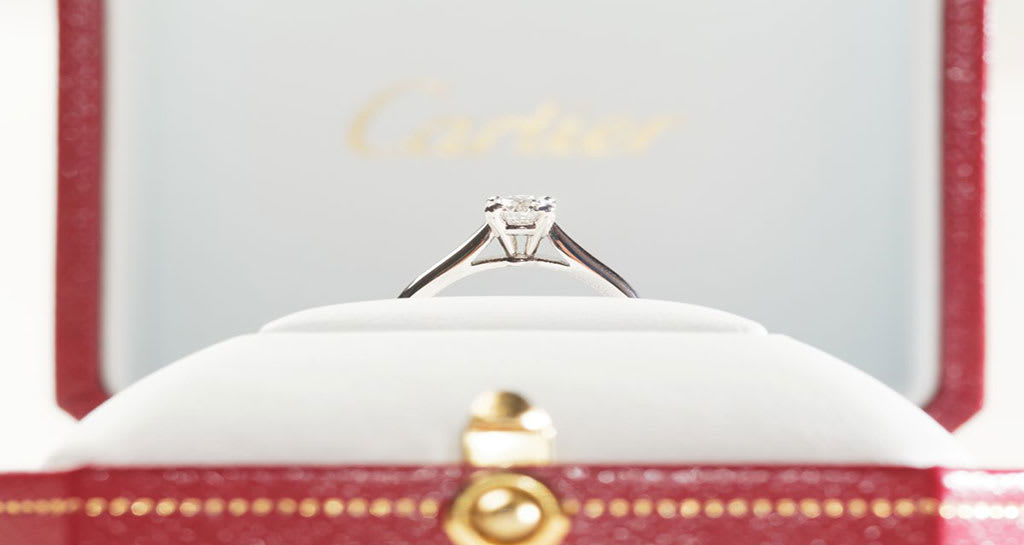 If the ring has smaller stones then the ring loses its overall value. Buyers prefer a ring that has one ring as opposed to many. The simplicity and minimalism are what make a ring valuable.
The base of your ring also determines its value. Is it made of gold, silver, or another precious metal? Depending on the precious metal, your ring's value can increase or decrease in value.
As a general rule, gold is always more valuable. However, trends change, and silver or white gold, or platinum might be more popular depending on the occasion.
4. What To Do First
So once you've determined the value of the engagement ring and are ready to sell, there are some preliminary steps to take.
You should get your engagement ring insured in case anything goes wrong. You might also want to consider keeping it in a safe place. Invest in a safe for your home or keep it in a vault or a bank locker.
You can also look online to see how many engagement rings are selling for. While many sellers list their engagement rings on online marketplaces ranging from Craigslist to eBay, you likely won't get the best deal from these websites.
However, you should still use these marketplaces for your research to see how much similar engagement rings are selling for. This can help you negotiate your price if the seller wishes to negotiate and make a counteroffer for your initial price.
Use this time to also research the various diamond buyers in Chicago. You want one that is reliable and has the credentials for buying engagement rings with precious diamonds.
5. Selling The Ring
Now you are ready to sell your engagement ring. If you have any documents relating to the ring (proof of ownership, insurance certification, etc.) make sure you make a photocopy of these and include them with your ring when shipping it.
Next, you should book an appointment with the diamond buyer. At this appointment, they will evaluate your engagement ring and make an offer for a sale price. Be patient as this process may take time. The gem experts will determine the quality of your engagement ring and how much they are willing to pay for it.
You can accept the offer and make the sale. If you accept, you will receive the payment shortly after you confirm your agreement with the sale price. On the other hand, if you disagree, you can negotiate for a better price.
If the diamond buyer and you cannot reach an agreeable price, you can request your ring back and look elsewhere. This is where insuring your engagement ring matters, as you want to make sure there are no issues when the ring is returned to you.
Show Us Your Ring
Now that you know how and where to sell an engagement ring in Chicago, you are ready to take out your engagement ring and find a buyer.
We would love to look at your engagement ring and potentially buy it.
Check out our frequently asked questions to learn more about selling to us.