How much do you get for selling diamonds? Selling your diamonds can net you a small amount based on several criteria. 
The average cost of an engagement ring in the United States is $5,550. Most people would be disappointed to find out that they won't get that much back if they choose to re-sell their diamond ring. So how much do you get for selling diamonds?
Diamonds do not hold their initial value. What you actually get paid for reselling them is likely below what you paid to purchase.
However, there are several factors that can maximize your sale price. It is important to get familiar with the diamond selling process before trying to sell a diamond.
Is My Diamond Worth Anything?
There are several things to consider when estimating the potential resale value of diamond jewelry. You may remember them from diamond shopping, the 4 C's: cut, color, carat, and clarity.
The shape of your diamond matters, with round diamonds netting the best prices. Even more important is the cut of your diamond. More expensive diamonds have better facets. This can make the diamond appear brighter.
The color of a diamond can also influence the price. Typically colorless diamonds provide a better value.
Carat is the weight of the diamond. No surprise here, the higher the carat the bigger the price tag.
Finally, clarity refers to a lack of inclusions within the diamond. If you have a flawless diamond, it may fetch more.
An appraisal can give you an idea of the value of your diamond.
Ask your appraiser for resale value, not replacement cost. Appraisers often provide the replacement cost for insurance purposes, which is the amount it would take to buy the exact ring again due to loss or damage. This is not your resale value.
So How Much Do You Get for Selling Diamonds?
It's an uncomfortable truth, but the answer is probably not much. Experts in the field estimate diamond sellers may get back just between 30% and 50% of the original cost of the piece.
For those who are trying to make money by selling estate jewelry or previous wedding jewelry, getting the most out of their diamond jewelry means being strategic.
One of the biggest factors in getting top dollar for your diamonds is where you sell them. Going through a professional buyer who recognizes the finer points of the 4 C's and pays for them accordingly is important.
So who can you trust to buy your diamonds?
Where Can You Sell Diamonds?
There are a variety of places that you can sell diamonds when you're looking to offload some older jewelry.
Choose an option that is safe and will pay you a fair market price for your goods.
Pawn Shops
One of the fastest ways to get money today for jewelry is pawn shops. Pawnshops often take walk-ins and will pay in cash for jewelry that same day.
But hang on if you want to get the best price for your jewelry. A pawn shop will almost never offer this.
Do your homework first to know how much your diamond jewelry is worth, such as getting a professional appraisal. Let the shop make the offer and see if it comes close to what you want.
Remember that it's in the pawn shop's interest to offer you a low price so they can maximize their profit margin when they sell the item. Don't get taken advantage of.
Private Sales Online
Uploading your unwanted items to Craigslist, Facebook Marketplace, eBay, and more is second nature to most people now. But when it comes to involved luxury sales like diamonds, selling online might not be your best option.
Without an appraisal, you could seriously short yourself by offering up your diamond to online marketplace buyers. Likewise, if you try to post it just for the price you paid you definitely won't get much attention—secondhand shoppers are looking for a bargain.
It's also dangerous to conduct jewelry sales privately.
When selling solely online, you have very few ways to confirm who you are speaking to.
Mailing diamonds without insurance or before your payment has been processed is a bad decision as they could easily be stolen and you will have no way to recoup the cost.
Selling jewelry at an in-person meet-up can also be dangerous. Sellers have been targeted for theft in these types of private sales, and many have been seriously injured.
If you plan to sell online, look for local approved meetups. Many fire departments and police stations are happy for you to conduct sales in their parking lots.
Some cities have installed surveillance at designated spots for online sale meetups.
Consignment Shops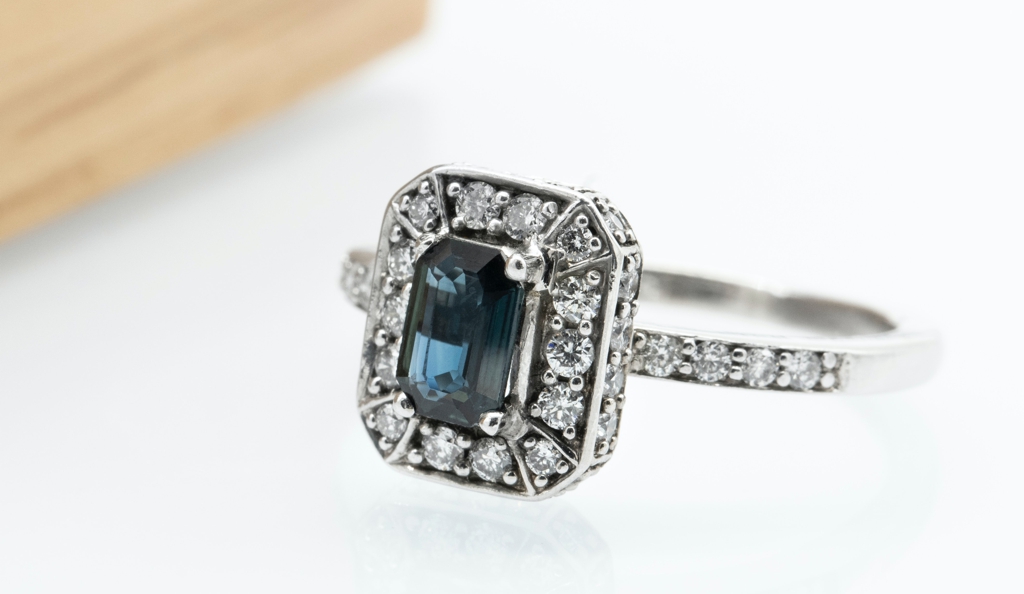 Consignment shops are often a great place to sell high-end or luxury goods. You bring your items in, the shop reviews them, and then worthy items are placed on consignment.
"On consignment" means they will be available for sale for a period of time. Once they sell, the shop will offer you an agreed-upon percentage of the payment.
That's the major downside of consignment shops—it can take a long time to get paid. And if your local consignment shop does not have a jewelry expert, you won't know if you're getting a fair price for your diamond anyway.
Local Diamond Buyer
If you're looking for a seamless experience selling your diamonds to experts who know the value of your jewelry, a local diamond buyer can provide this. Safer than online and faster than consignment, you can get a fair price from a diamond buyer who will take your appraisal into consideration.
We are a local Chicago diamond buyer who wants to get you a reasonable price for your diamond jewelry.
Sell with Chicago Diamond Buyer
Now that you know the answer to "How much do you get for selling diamonds?" pick the option that will bring you the greatest price for your diamond sales: a local diamond buyer like us. With a staff of specialists and a process that gets you paid in under 48 hours, we provide free evaluations and offers.
Find out the value of your diamond online or in person when you work with Chicago Diamond Buyer today.